Playing Music
Tim McLaughlin has been a staple on the Pacific NW music scene for almost 20 years.  He is equally versed on guitar and trumpet and can be seen touring and performing in groups ranging from salsa and funk bands, to rock and jam bands, to jazz ensembles, and with singer/songwriters.  McLaughlin is active in recording, teaching, performing and composing and brings to the plate his original versatility with an emphasis on creativity and spontaneity.  
Tim has toured and recorded extensively as the band leader of Eleven Eyes, as well as many other PNW favorites including Reeble Jar, Everyone Orchestra, Medium Troy, MarchForth, Sara B3 and 45 RPM, John Shipe, DeSolution, Halie Loren, Malanga, and Banter Waves, King Radio, Son Melao, Kris DeLane and the Hurt, the Flipside Funk Jam at Sessions Music Hall, and as a solo artist.  
As a producer and recording artist, he has recorded numerous tracks for albums and artists of all kinds.  McLaughlin has also composed, produced, and recorded the soundtracks to multiple documentaries with award-winning documentary producer, Jerry Joffe.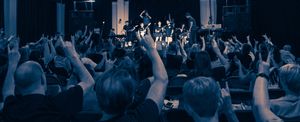 Teaching Music
Since graduating from the UO School of Music in 2002, I've been working up my private teaching studio.  I'm blessed that is is still going strong, teaching guitar, trumpet, and bass at all levels and styles.  You'll also catch me directing small ensembles in my studio, teaching audio production, Ableton Live and piano.  I believe in a modern music education approach, where I tailor lessons to the individual learning and music style.  My goal is to form musical habits that will help in the real world of playing music while achieving all individual musical goals.   
In addition to teaching privately, Tim directs the high school and middle music programs at Oak Hill School as well as Marcola High School, and is a teaching artist for the Lane Arts Council.  McLaughlin has been a strong advocate for supporting youth in music by developing and directing the Music's Edge Rock Camp,  Eugene's most popular summer program for up and coming rock stars.   
Playing music makes Tim a better teacher, and teaching music makes Tim a better performer.  It's his yin and yang.